Browse through our wide range of styles and 8 sophisticated colors to create a classy combination of sink and countertop.
Made with up to 80% natural quartz, the hardest constituent of granite, Duragranit sinks set extraordinary standards in terms of surface feel, practicality, and aesthetics.
With durable, long-lasting, and ultra-fine nanostructure, these sinks are remarkably smooth, making them easier to clean than you ever thought possible.
Installation
DUALMOUNT DESIGN: Choose between undermount installation, for a seamless transition from sink to countertop, or overmount installation, with the sink borders over the countertop.*
Colors
Create the perfect combination for your kitchen with CRISTALITE® colors.
01 Blacksand
02 Wheat
03 Iceberg
04 Gray moon
05 Chocolate
06 Silver Fox
07 Storm Cloud
08 Eclipse
Deeper
The deep sink design makes it easy to use without much water splash and offers more space for dirty dishes without polluting the look.
Naturally silent
Composed of 80% quartz and 20% acrylic, Duragranit sinks are naturally silent. Acrylic acts as a natural acoustic insulation material. It absorbs vibration and minimizes noise, eliminating the need for rubber blankets to reduce noise.
Easy drain
The slightly tilted bottom allows for easy drainage to eliminate standing water in sink and the optimized angle prevents glass objects from falling. 4-1/2" drain hole make it possible to use under-sink garbage disposal.
Position of holes for faucets, soap dispensers and other accessories pre-marked under the sink.
The final drilling of the holes are made at the granite fabrication shop or by the client.
SIS-GR101 - Single Bowl Kitchen Sink
SIS-GR102 - Single Bowl Sink
SIS-GR105 - Super Single Bowl Kitchen Sink
SIS-GR106 - Small Single Bowl Kitchen Sink
SIS-GR107 - Small Single Bowl Bar/Prep Sink
SIS-GR115 - Small Single Bowl Kitchen Sink
SIS-GR201 - 1-3/4 Double Bowl Kitchen Sink
SIS-GR201B - Double Bowl Kitchen Sink
SIS-GR201CR - 1-3/4 Double Bowl Kitchen Sink
SIS-GR202 - Double Equal Bowl Kitchen Sink
SIS-GR202B - Double Equal Bowl Kitchen Sink
SIS-GR202C - Double Equal Bowl Kitchen Sink
SIS-GR202CLD - Double Equal Bowl Kitchen Sink

SIS-GR202D - Double Equal Bowl Kitchen Sink
SIS-GR202E - Double Equal Bowl Kitchen Sink
SIS-GR202F - Double Equal Bowl Kitchen Sink
SIS-GR204 - 1-3/4 Double Bowl Kitchen Sink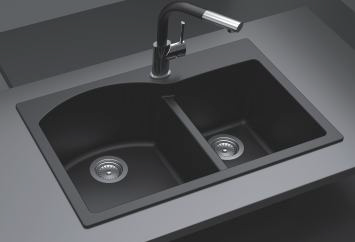 SIS-GR204LD - 1-3/4 Double Bowl Kitchen Sink - Low Divider